Art therapy at the Dr. Peter Centre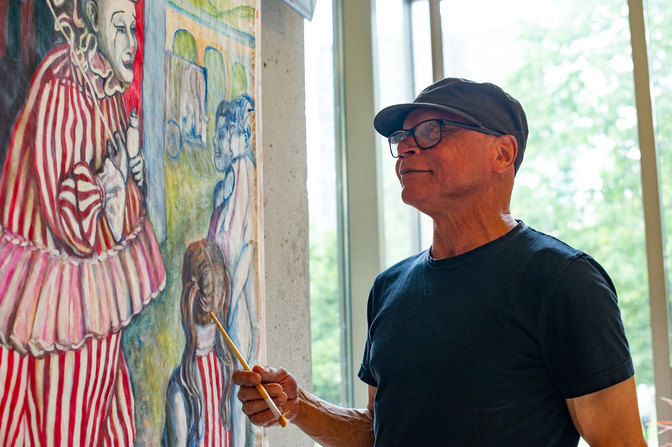 "My art changed. It used to be really dark. Lots of black lines around everything. But then as I went through my recovery, I took a chance and experimented with more colour," Art Therapy participant
A doorway into healing
Art therapy serves to lessen the impact of physical and psychological symptoms of HIV, mental illness and substance use. It also helps in developing important coping skills that in turn can aid in alleviating pain, anxiety and physical tension.
Art therapy engages the participant in a creative process that calls upon the individual to become present and connected. Through the safety of the art therapy framework, individuals gradually reveal for themselves the coping mechanisms they have used in their lives.
Therapists guide the process
"I see courage in anyone who walks into the art studio to face their internal critic. I ensure that we offer a safe place to encourage compassionate self-reflection and a positive arena for change." ~ Scott McDonald, art therapist
Therapists trained in this form say that the first step lies in making the decision to "create".
From there the therapists help address the link between the mind and body by allowing the person to address the fear, anxiety, tension, and trauma that limit a person's ability to cope with illness and build a path towards well-being.
Artistic techniques available to participants include painting, drawing, fabric art, quilting, small sculpting projects, papier-mâché, beading, sewing, weaving, and pottery.
On average, our Art Therapists provide more than 2,100 hours of service to participants, taking part in individual and/or group sessions.
An average of 226 unique individuals takes part – representing an estimated 57% of our Day Health participants.
On a typical day, an average of 12 people could be working on various projects.