HepC Program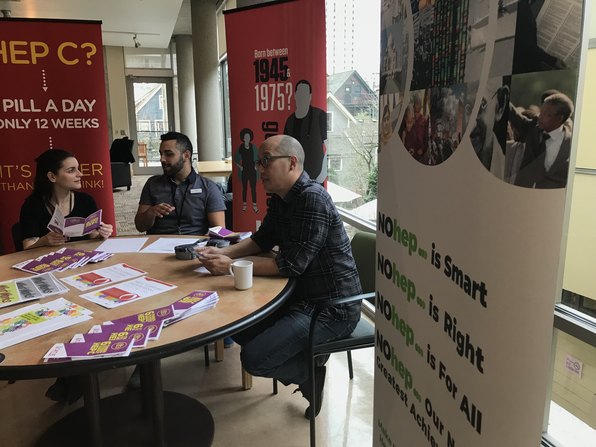 Tackling HepC head-on
British Columbia has the highest rate of both HIV and Hepatitis C (80,000 people) in the country, with marginalized groups at greatest risk of contracting HepC.
Once infected, slowly and silently, people with Hepatitis C descend into a world of debilitating fatigue, brain fog, loss of appetite and weight gain. All this makes managing their HIV all the more challenging. Worse, the HIV-HCV combination delivers a knock-out punch by accelerating liver disease.
The consequence? Dr. Peter Centre participants and residents are living in the cross-hairs. If one doesn't get them, the other will. Research indicates that as many as 54% of those accessing services at the Dr. Peter Centre have HepC.
Historically challenging to treat marginalized individuals
In some cases, our participants may have tried earlier therapies such as interferon that were hard to tolerate. In other cases, they may have simply left it alone, while they focus their attention on coping with HIV.
Stigma also plays a factor. In some cases, physicians lack confidence that their patients can be cured given a variety of co-morbidities – from HIV to intravenous drug use, mental health concerns and even homelessness.
The result is that even today with new non-invasive and effective direct-acting antivirals available in BC to every regardless of lifestyle or income, participants believe their lifestyle makes them ineligible for treatment. Or they fear the side effects, conjuring tales of the harsh and often ineffective Interferon therapy reminiscent of AZT, believing that's the only option.
Today HepC can be cured
Now that new non-invasive and effective direct-acting antivirals are available to everyone in BC regardless of lifestyle or income, liver health lies within reach.

Getting the word out
At the Dr. Peter Centre, we know knowledge is power. Our low-barrier integrated health approach continually fosters relationships built on trust and lived-experience. We know our participants, and they know us. Steeped in knowledge about HIV, our clinicians now need to expand their expertise to include current research on HepC treatment and its relevance to our participants.
Sharing this information with clients in a trusted and familiar environment increases our capacity to care for the whole person. The Dr. Peter Centre has developed a new program.
Twice a year, the Centre hosts Liver Days, where participants and residents can ask questions from HepC experts, receive an antibody test for the Hepatitis C virus as well as a FibroScan of their liver, and undergo blood work.
This one-stop-shop provides an easy access point with familiar faces, increasing the likelihood that people will take advantage of the highly effective and easily tolerated pharmaceutical therapies that are now available.
Advocacy makes a difference
Sharing information about HepC in a trusted and familiar environment increases our ability to care for the whole person, and empowers them to make decisions that support ongoing health.
A portion of this program is provided thanks to sponsorship from AbbVie.