Aging Gay Men & HIV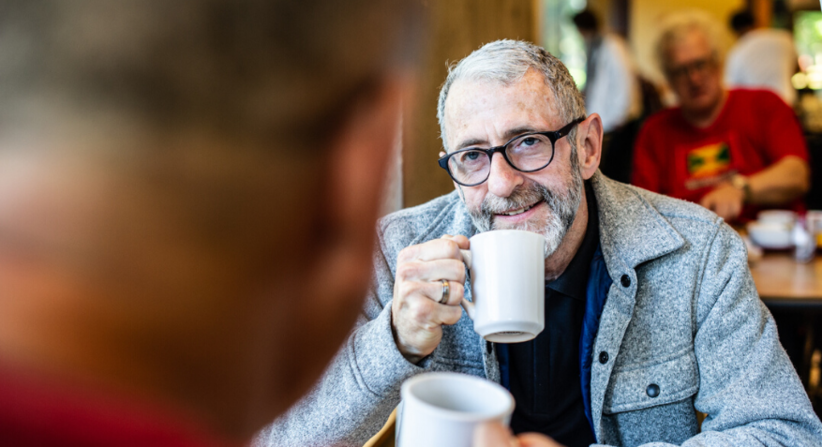 Addressing the gap in HIV support
In 2017, the Dr. Peter Centre clinical team identified there were a growing number of gay men age 50+ looking for support, with nowhere else to go. In the Vancouver area alone, there are almost 600 individuals that could benefit from this program.
These men lead largely healthy lives. Yet the psychological pain of the AIDS epidemic continues to haunt them. They lost friends and were forced to tackle the ravages of stigma head on. They were not permitted to marry. They lost partners, often relationships with family. Within the senior population as a whole, gay men with HIV make up a fraction. Very few seniors share their lived experience.
A place where survivors meet survivors
The program began with a handful of men coming on Wednesday evenings for a meal, art and music therapy. It also provides access to all the services of the Day Therapy program, which includes individual and group counselling, occupational therapy and clinical resources.
The Evening Program supports those with multiple medical conditions who face the social stigmas of aging with HIV. A significant struggle for some of those living with HIV is adhering to a daily drug regimen and this program assists participants in finding the best opportunities to access care. Today, nearly 50 people participate, with many building ongoing friendships while receiving support from the Day Health program.

Leading the way
Stigma around living with HIV and adherence to a daily drug regimen can be problematic for those without the social supports and structure in their daily life. Health complications from aging with HIV/AIDS is a newer scenario. The Dr. Peter Centre is a trailblazer in Canada in supporting patients encountering these barriers and stigmas as they age.
As the only HIV day health program and 24-hour nursing care residence in British Columbia, the Dr. Peter Centre is a leader in helping aging gay men overcome stigmas and barriers such as social isolation and food insecurity.
"We have scars that a lot of people don't understand. We saw it, we lived it, we weren't sure if we were next. Having this group, we all have a common ground."
~ Evening program participant
Evening program participants spoke with media in June 2019 about their experiences
Click below to read more about their experiences.