The Dr. Peter Centre Collaborates with the CAAN Communities, Alliances & Networks on a Landmark Indigenous-led initiative: "Culture as Harm Reduction Knowledge Bundles."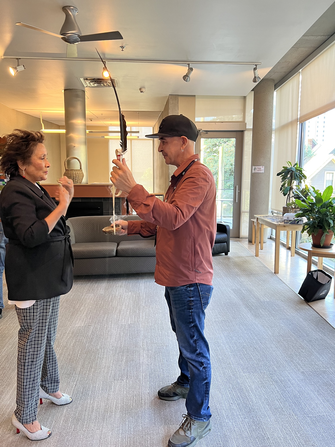 VANCOUVER, BC (September 29, 2023): The Dr. Peter Centre is proud to announce a new collaboration with the CAAN Communities, Alliances & Networks on the groundbreaking "Culture as Harm Reduction Knowledge Bundles: An Indigenous-Led National Initiative."
This project equips organizations in urban and semi-urban communities with the tools and training they need to deliver harm-reduction services that resonate with both Indigenous and non-Indigenous cultures.
Incorporating insights from existing research initiatives on COVID-19 and Indigenous harm reduction, the initiative addresses service disparities and paves new pathways to understanding and healing.
The Initiative Aims:
Nationally recognized harm reduction practices that speaks a language of understanding and cultural relevance.
Collaborative crafting of knowledge bundles, richly influenced by Indigenous Ways of Knowing and Doing (IWKD).
Ensuring barrier-free access to harm reduction services backed by service providers armed with peer-informed resources.
Expanding the range of resources available to Indigenous communities in diverse localities.
Cultivating inclusive platforms where Indigenous voices and experiences are at the forefront of harm reduction discussions.
Elevating the narrative and wisdom of Indigenous communities and those who are living and have lived experiences (PLLE) in a united bid to address the overdose crisis at the national level.
Reinforcing the capacities of all harm reduction entities, ensuring optimal support for their Indigenous clients.
"In healthcare and harm reduction, our strength lies in embracing Canada's rich cultural tapestry. The collaboration between The Dr. Peter Centre and CAAN Communities, Alliances & Networks exemplifies our collective commitment to ensuring every individual, Indigenous or not, feels seen, heard, and cared for. Together, we are building bridges and shaping a healthier future for all Canadians." said Honourable Dr. Hedy Fry, Member of Parliament for Vancouver Centre.
"In this journey, it's not just about service" Okimaw (CEO) CAAN, Margaret Kisikaw Piyesis, noted," —it's about connection, identity, and healing. Through Indigenous Ways of Knowing and Doing, we're revisiting and reviving ancestral strengths to face today's challenges."
"We welcome and accept everyone for the unique person they are. Our approach to complex care is a carefully tuned balance of head and heart and our alliance with CAAN reflects this, shared Scott Elliott (CEO), The Dr. Peter Centre. "Lessons we learn from this initiative can be applied to many other situations and communities as well."
About the Dr. Peter Centre:
The Dr. Peter Centre is a non-profit organization based in Vancouver and provides progressive health care for people with HIV/AIDS, substance abuse, and complex mental health issues. The Centre offers a broad spectrum of services, from day health to long-term residential care, keeping them all connected to their community of health.
About the CAAN Communities, Alliances & Networks:
CAAN remains steadfast in amplifying Indigenous voices in the HIV and AIDS discourse at all local, national, and global tiers. Their unwavering commitment ensures that everyone has access to essential resources and understanding.