Public Health Agency of Canada's visit to the Dr. Peter Centre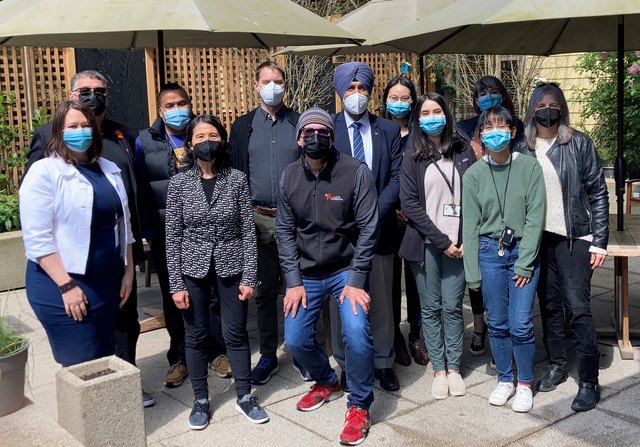 On April 27th, the Dr. Peter Centre had the honor of hosting Dr. Theresa Tam, Chief Public Health Officer of Canada and Dr. Harpreet S. Kochhar, President of the Public Health Agency of Canada (PHAC). Dr. Tam and Dr. Kochhar were accompanied by Pamela Ponic, Chief Of Staff at PHAC, Jackie Wu, Manager of Public Health Capacity and Knowledge Management for PHAC Western Region, and Courtney Smith, Senior Epidemiologist at PHAC.
Dr. Tam and Dr. Kochhar were led through a tour of the Centre, highlighting DPC's four core areas of service, including the Day Health, Residence, Housing, and Knowledge Translation programs.
Throughout the visit, our guests showed an interest in learning what mechanisms work for providing stigma-free, trauma-informed, and culturally responsive programs, and for sharing learnings nationally to increase the capacity of the health and harm reduction sector across Canada. PHAC was particularly interested in our partnership with CAAN, and our national COVID-19 Vaccine project that positioned the Dr. Peter Centre to distribute funds to 12 agencies across Canada to improve trust and equitable access to the COVID-19 vaccine.
On the tour, our PHAC guests met with our Cultural Worker and Indigenous Advisor who shared from their perspective, how the values of the organization are aligned with Indigenous ways of being and doing, which helps move us towards repairing trust and creating a culturally safe environment for accessing health care.
In preparation for their visit, PHAC shared with us Dr. Tam's vision for Canada as exemplifying a world-class standard of health care, driven by a focus on equity, transformation, and a commitment to decolonization and reconciliation. We are proud of our integrated model of care at the Dr. Peter Centre and the opportunity we had to exemplify the work we do that embodies this vision.
We are grateful to be able to build these connections and show Canada's health care leaders the impact of our work. This visit is a testament to the success and leadership of our programs, services, and national initiatives in the health care sector.
The support we have had through funding from the federal and provincial government for the vital services we provide at the Dr. Peter Centre is essential in ensuring that we are able to continue supporting those in our community that need us the most.