Blog: Ensemble Overdose Prevention Site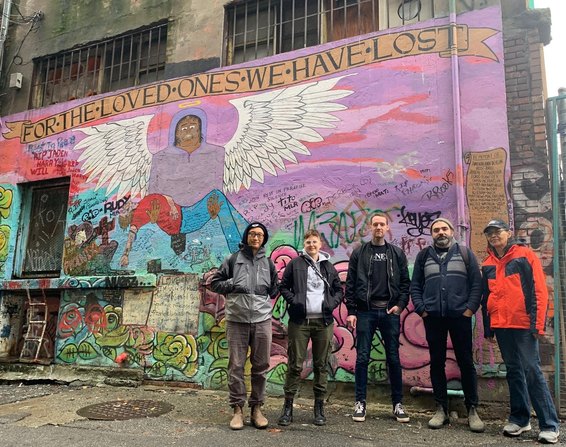 Ensemble Overdose Prevention Site
On November 25th 2021, Ensemble opened their overdose prevention site (OPS) to the Moncton community in New Brunswick as a response to the drug poisoning epidemic in Canada.
In 2017, the Knowledge Translation + Evaluation (KTE) team at the Dr. Peter Centre launched a 5-year project funded by the Public Health Agency of Canada (PHAC) to build the capacity of community-based organizations across the country to provide supervised consumption (SCS) and overdose prevention services (OPS) for people who use drugs. Over the 5 years, the team has been involved in developing knowledge networks and exchange to address key practice issues in providing SCS and OPS through hosting national community of practice videocalls, convened various national working groups, and provided individualized training to support organizations in setting up SCS and OPS.

This experience from the last five years in conjunction with the Dr. Peter Centre's own experience in running a harm reduction site resulted in the KTE team working with the organization Ensemble in order to assist them in opening a supervised injection site in Moncton, New Brunswick—the first in the province. The purpose of this collaboration was to increase knowledge and skills, as well as provid
ing Ensemble with the opportunity to put these learnings into action.
Over the course of a few weeks, Clem Fong (Knowledge Translation Clinical Counsellor), Matthew Bonn (Knowledge, Mobilization & Trainer with the Dr. Peter Centre) and Corey Ranger (Clinical nurse leader for SAFER in Victoria) provided the employees of Ensemble with extensive training in harm reduction, substance use, trauma-informed care and practical tips on setting up an overdose prevention site.
The week before Ensemble opened their doors to their community, Nick, Josue, and Clem visited a number of overdose prevention sites and met with a number of drug advocacy groups. One site was the Helping Hands Society's Overdose Prevention Site in Squamish, BC. Here they met with the Executive Director, a Program Services Manager, and peer worker to talk to people who can share their learned knowledge of how to successfully run an overdose prevention site.
The other sites the team visited include the Starship Overdose Prevention Site; SisterSpace supervised inhalation service, Molson Overdose Prevention Site, Insite, and the MySafe safe supply machine, which disperses a safe and regulated supply of opioids. These sites were able to pass on their knowledge around the value of peer-led models and their learnings around providing a safe supply and the importance of it.
In conjunction with visiting these sites, Nick and Josue met with drug advocacy groups like the Vancouver Area Network of Drug Users (VANDU), the Western Aboriginal Harm Reduction Society (WAHRS), the Drug Users Liberation Front and other local harm reduction experts. Meeting these advocacy groups was vital in creating long-term networking relationships and the sharing of learned experiences that can only be shared by people who have worked in this field for as long as they have.
Overall, this training conducted by the KTE team at the Dr. Peter Centre for the organization Ensemble contributed towards a successful opening of their overdose prevention site on November 25th to 12 individuals on the first day.
The importance of sharing knowledge and experience of harm reduction in BC is more important now than ever before. In 2021 we have seen 1,716 British Columbians die of an overdose, which has surpassed any records we have seen before. It is vital that organizations like ours make the opening of more harm reduction sites in BC as seamless as possible to not only remove stigma around substance use, combat ineffective drug policies, and tackle the fentanyl issue, but to save lives.
​