Colour returns for Vancouver artist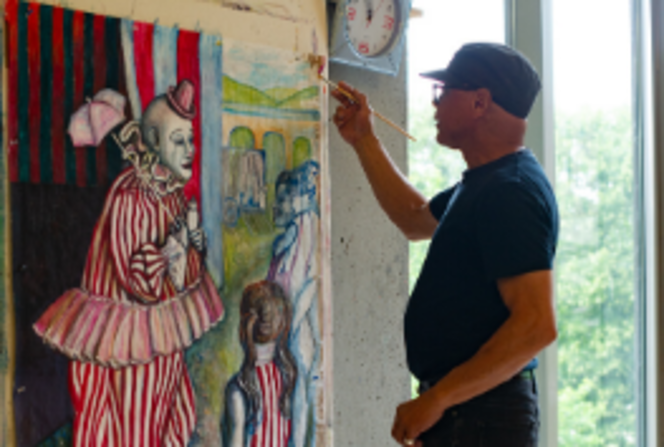 The Dr. Peter Centre was really important to my sobriety. I'm really grateful for the experience."
Media Release
(Vancouver, BC) - With his first art exhibit in nearly 20 years underway this month at The Mole Gallery, Robert J. Carter says colour has finally returned to his life and his work.
The solo exhibit "So" showcases Carter's diverse artistic expression from his darkest days when he lost so many friends to AIDS, to the kaleidoscopic beauty that emerged as he worked through his pain and consequent addiction in the art therapy program at the Dr. Peter Centre.
"My art changed. It used to be really dark. Lots of black lines around everything. But then as I went through my recovery, I took a chance and experimented with more colour," Carter says, gazing at the gallery walls and surfaces filled with ink sketches, ceramics, watercolours, and top-to-bottom tapestries culminating with his favourite piece – a classic clown sharing a moment with mother and child in a fairground.
The show runs until the end of November – Fridays only - from 1-5pm at 1169 Pendrell St (Jepson-Young Lane entrance).
HIV diagnosis short circuits early career
After moving to Vancouver, he obtained his Fine Arts degree from Emily Carr in 1987. One year later, he was diagnosed with HIV.
"I'm a long time survivor. I've been burying friends since 1982 and that led to a lot of escapism and the use of drugs," he says. "A lot of people don't realize what it's like to have been living through the centre of all that – it was either kill or be killed with sex. Sex became a lethal weapon, so it was hard to be part of that and feel creative. It was a complicated time."
Clean now for 10 years, he credits the art therapy he's done at the Dr. Peter Centre.
"It's helped me deal with recovery and drug addiction. It's really important to have an outlet and get in touch with who you are," he says. "The Dr. Peter Centre has been amazing in that respect during my recovery and was really important to my sobriety. I'm really grateful for the experience."
The role of art therapy at the Dr. Peter Centre
Re-integrating and reclaiming his artistic self didn't happen overnight. He dipped his toes in a few years ago when he took part in an art exhibit as part of the AIDS Conference in Vancouver in 2016. Then in 2017 a few of his pieces were part of a Dr. Peter Centre art display at the West End VanCity during the Pride Festival.
All the while, colour kept reasserting itself into his work.
"For me, dealing with colour and keeping things really abstract and loose has been important to me. It's not escapism, it's become more of a meditation to me – a way for me to let go and tap into the forces that are there and the energy of the world," Carter says.
Scott MacDonald, lead art therapist at the Centre, agrees.
"Robert has shown great strength and courage pursuing growth through such a personal process. The depth and connectivity of Robert's work is truly a gift to those that view it. "
As for the title – So – it too is a reflection on what was then, versus what is now. Then he was cryptic and cynical, a self-styled punk rocker who liked to describe himself ironically as "so boring". Today, the word "so" offers more of a light touch.
"Back then I jokingly called myself "So" because people would say to me 'so, how are you?', and over time, that word has just morphed into something more positive."
Carter hopes the exhibit marks the beginning of something new for himself and for participants at the Dr. Peter Centre, who might want to show their pieces collectively at The Mole Gallery in the coming years, and through that demonstrate the transformative power of art therapy.
"This is the start of a lot of things."