Pride Cocktail Crawl
Partial proceeds from cocktail sales will go to the Dr. Peter AIDS Foundation.
Carlotta's Cocktail

Love & Luxe Cocktail

True Lies Cocktail

ARC Restaurant
Fairmont Waterfront

Featured at Fairmont Vancouver Airport

Featured at H Tasting Lounge and 
H2 Rotisserie & Bar

This cocktail is featured in
collaboration with the
fabulous Carlotta Gurl!
Two Hearts is made with Vodka,
Krupnik Spiced Honey Liqueur,
egg white, lemon juice,
vanilla syrup, peach bitters
A unique blend of sweet and smoky:
crème de cassis, house-smoked gin,
grapefruit juice, dark cherry garnish

2 oz. Stoli Premium

1.25 oz. Lemon juice

1 oz. Charred Pineapple syrup

1 oz. Pineapple Marmalade 

Shake and double strain
into double rocks glass
with ice. Garnish with
dehydrated pineapple
slice and 2 pineapple leaves.

Available now
Available July and August

Available July 30 - Aug 6
Jewel of Agrabah
Cafe Medina

Safe Word
Wildebeest

A fruity and flavourful libation that
blends Jasmine-infused vodka,
lychee liqueur, poached pear,
Blue Curaçao and fresh lemon.
Inspired by Disney's Aladdin,
this colourful summer cocktail
is so enchanting that some may think
it was poured straight from a
Genie's magical lamp. The eye-catching
tipple is topped with a dried rose bud
for an added element of whimsy.
A cheeky riff on a classic cocktail
'The Last Word', this tasty libation
features gin and green chartreuse
but is updated with the addition of
cherry brandy (rather than the
traditional maraschino liqueur).
Garnished with a playful orange
peel 'whip' and BC cherry fruit
leather 'bow', this frisky
Pride-themed beverage delivers
just the right amount of naughty. 
Available July 30 to August 5
Available July 30 to August 5
Grounds for Coffee
Grounds for Coffee - home of the world's best cinnamon buns will be selling rainbow Pride Packs of cinnamon buns in support of the Dr. Peter AIDS Foundation!
Each Pride Packs will sell for $18.00 (tax included) and contain six full-sized cinnamon buns, each iced in a unique and fabulous colour. All dyes are created using 100% natural extracts, with no artificial additives or colours. From August 3-5, 25% of sales from rainbow Pride packs will go to the Dr. Peter AIDS Foundation.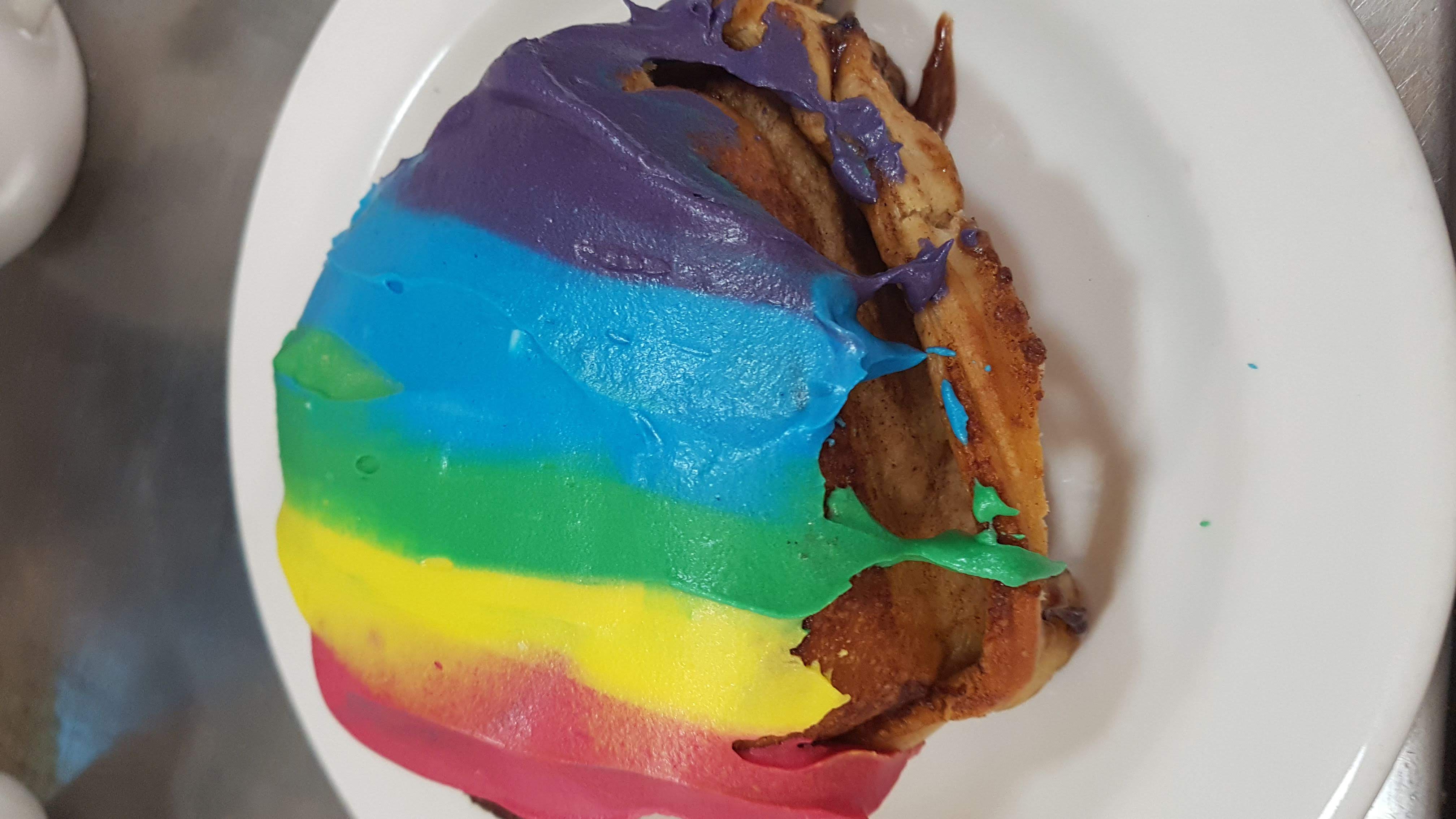 AIDS Walk 2018
When: Sunday September 23rd 2018 (registration opens 10:30am)
Where: Sunset Beach, Vancouver, BC
What: A 2.5 km WALK route along Beach Ave to English Bay and then back along the seawall past the AIDS Memorial
You can participate in the AIDS Walk as an individual, start your own team, as a virtual WALKer, or by sponsoring a WALKer by donating to their personal fundraising page.
Register for the 2018 Vancouver AIDS WALK here