Melissa, Recreation Therapist
"Recreation, leisure, relationships, dogs, laughter, fun."
Why did you choose these words?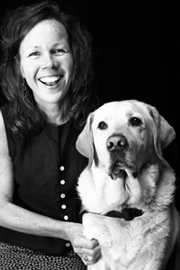 These are words that have high importance to me, and they are an essential part of what I do at work and home.

What led you to the Dr. Peter Centre?

I knew the recreation therapists who worked at the Centre many years ago. They spoke very highly of their work and the Centre. I wanted to be a part of it, so I started working at the Dr. Peter Centre in 2010.

What is most important about the Centre to you?

Relationships are the most important thing to me. When I interviewed for my job at the Centre, the staff told me that building relationships is a really important thing. I thought this would be easy because I'm friendly and talkative, bu I learned that it takes a number of years to build relationships with clients at the Centre. They come from a vulnerable population, and it takes time to build trust with them. Remembering details, like the names of a person's parents, are important - it lets them know that you care.

What would you like people to know about the Dr. Peter Centre?

We are an organization that cares about everyone who walks through the door.  

What would you like people to know about HIV?

Today, there are a wide range of misperceptions about HIV.  Some people think that HIV is over and there is nothing to worry about, and others still fear and stigmatize people who have HIV.

Is there anything you would like to say about Newton, the therapy dog?

Having Newton was the best choice I've made in my career as a recreation therapist and in my home life.


Melissa, Recreation Therapist